Angelina and its Story
The Angelina Story

In 1903 the confectioner Antoine Rumpelmayer founded Angelina, which he named after his daughter-in-law. For over a century the tearoom has built a reputation as a place of sophistication and indulgence. As soon as it opened, Angelina became the place to be among the Parisian aristocracy. Proust and Coco Chanel rubbed shoulders with the biggest names in fashion in Angelina's salons.

The interior, designed by the famous Belle Epoque architect Edouard-Jean Niermans, combines elegance, charm and refinement to create a sense of romanticism and poetry. Angelina is a tranquil, exquisite space, somewhere between serenity and indulgence.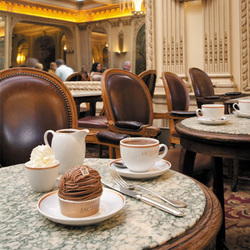 Angelina's essential African Hot Chocolate

The famous "African" hot chocolate is composed of three carefully selected kinds of African cocoa from Niger, Ghana and Côte d'Ivoire. The secret recipe for this chocolate mix is specially put together for Angelina. The combination of these different types of chocolate from different lands lends Angelina's hot chocolate its exceptional taste and distinctive character.

The Mont-Blanc

This iconic pastry combines meringue, light whipped cream and chestnut paste vermicelli to delight even the keenest of palates. The Mont-Blanc's unique, unrivalled recipe has made it Angelina's famous trademark pastry since 1903.

---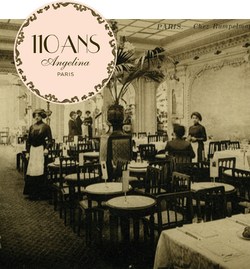 Angelina is celebrating its 110th anniversary

The Angelina tearoom, which has earned its place as an exclusive Parisian address for indulgent pleasure, celebrated its 110th anniversary in 2013. The tearoom is steeped in memories of comforting, indulgent moments spent in its salons - a haven in the middle of chic and vibrant Paris.
Firmly rooted in its past, but also decidedly forward-thinking, Angelina gracefully adapts to the times thanks to its enduring elegance.

---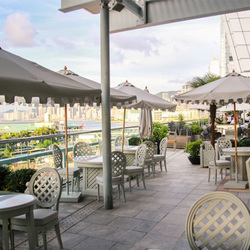 Angelina expands internationally

The opening of over thirty Angelina's tea houses and boutiques over the world in large international cities such as Hong Kong, Dubai, Doha, Tokyo or Beijing, shows a consistent growing appeal for the French art of living and the Angelina pastries. The Galeries Lafayette in Beijing, the prominent Dubai Mall and the legendary IFC Mall overlooking the bay of Hong-Kong, now have their own Angelina tea house. More openings are planned and great perspectives for Angelina are to be announced in other regions of the world particularly in America, Europe and Asia. A story to follow and a brand to share internationally.

---
The Angelina delicatessen

The Angelina delicatessen range is available in all Angelina boutiques as well as in other high-end food stores, and offers the possibility to offer or to bring back home the Angelina delicacies. Among these sweet treats, the bottle containing the original recipe of Angelina's Hot Chocolate, or the smooth, sweet and tasty Angelina Chestnut Cream. This range of Angelina's delights also counts eight varieties of teas including the "Mélange Angelina", confectioneries, spreads, caramels and jams.




---